Celebration Day
Budding Linnaeans' have been investigating how living organisms are classified.  Taxonomists are us! Would you believe that all living things can be classified into one of five kingdoms? Surely whales and sharks aren't really different species! What on earth (or in sea) are echinoderms? If viruses aren't  living how can we 'kill' them? All these questions and more can be answered by the science students at Sevenhills. Discussions in class inevitably led to which organism students would choose to be and why. Jack liked the idea of being a parrot, flying around talking. Ash would like to be a pitbull. I don't think he realises he'd be banned from the UK. Scott sees himself as a graceful shark exploring the World's oceans preying on aquatic delicacies. Excellent written work and posters accompanied our lively discussions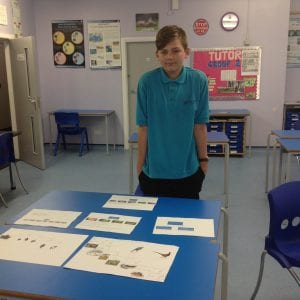 Two of our students enjoyed baking Lemon Drizzle cakes in their afternoon Food Technology lessons. All the pupils can gain a recognized qualification in Nutrition and Healthy Eating, and practise cooking a wide selection of tasty meals and puddings  .  Well done boys , the cakes tasted wonderful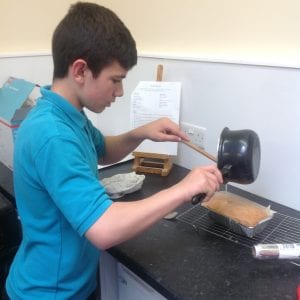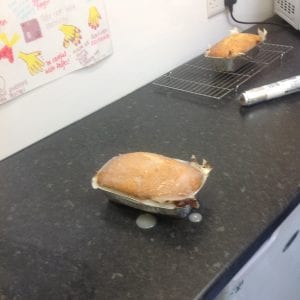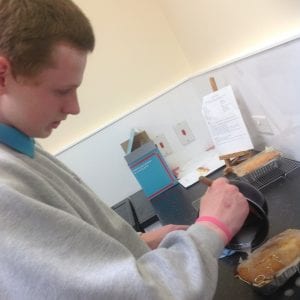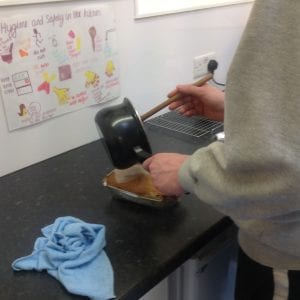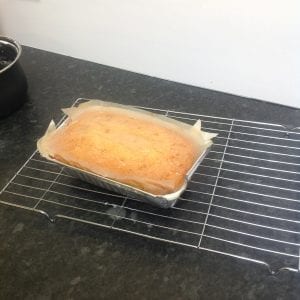 Fantastic work produced by the students in KS3
Elements- Crime and punishment in Anglo Saxon times.  Students are learning about the severe punishments handed out, and whether it matched the crime committed.
English- Literacy  Students learning about  Utopia and Dystopia and organising the pictures from Hunger Games into the correct description.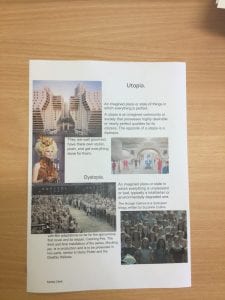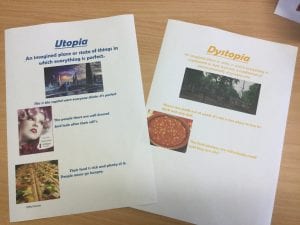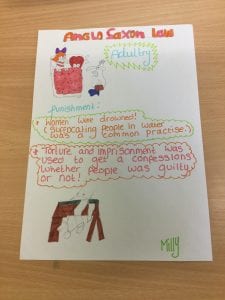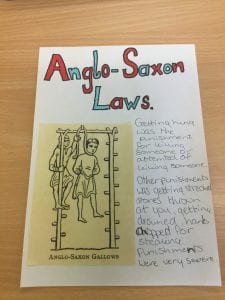 A students from out PLG Group (Personalised Learning Group) has been producing some outstanding work in maths this term. She has been given good comments by her tutor and he is very happy with the way she is progressing.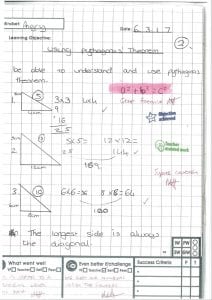 KS3 voted in a mock up election and enjoyed an election party, which followed a week of teaching and learning on the topic of politics.  Thankfully they elected for a coalition government – which kept both of their teachers in power! 
A lovely day of learning which reflected current affairs in Britain.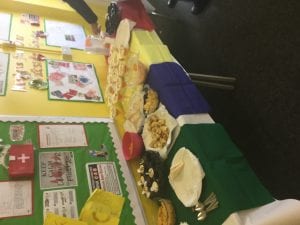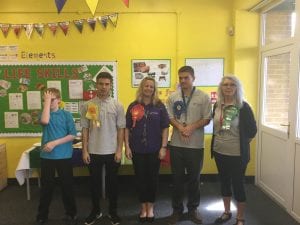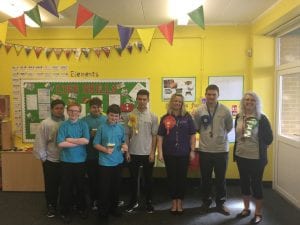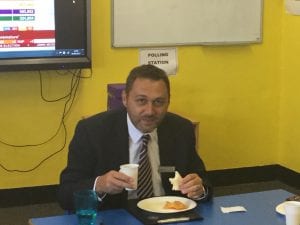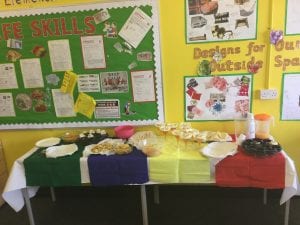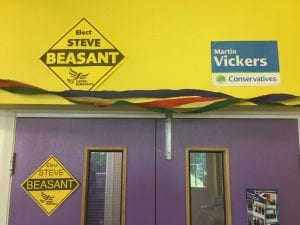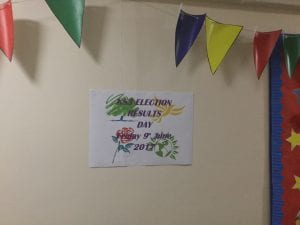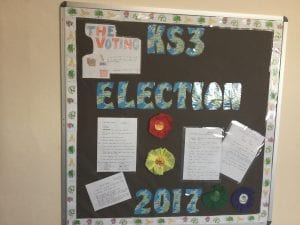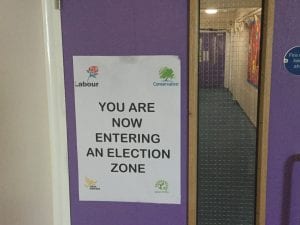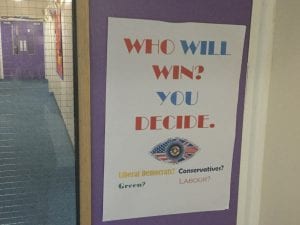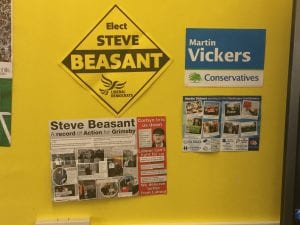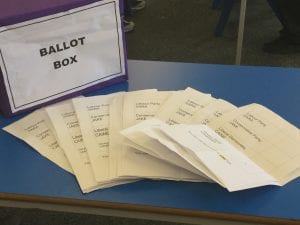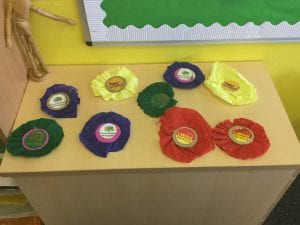 Blackpool
The reward trip to Blackpool was a great success. Despite some setbacks such as not being able to climb Blackpool tower due to high winds, students and staff still had a brilliant time. 12 students stayed in Blackpool for 2 days and enjoyed a full day at Blackpool pleasure beach.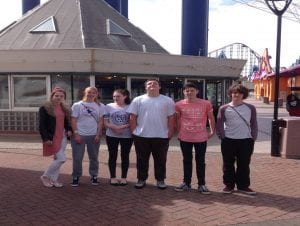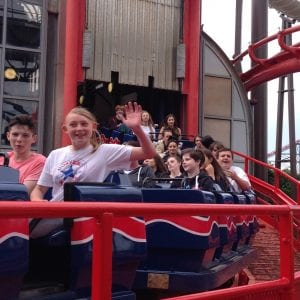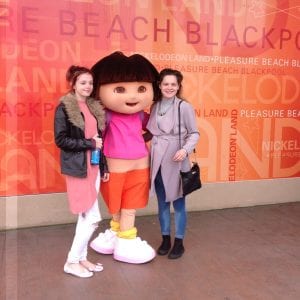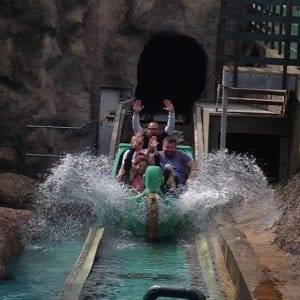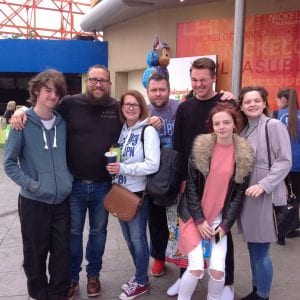 Children in Need
The 1st November the whole academy came together to raise money for Children in Need this was done by holding a sponsored walk, iron man completion, face painting and a cake sale.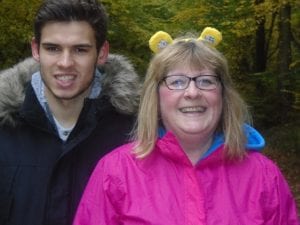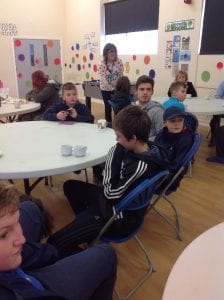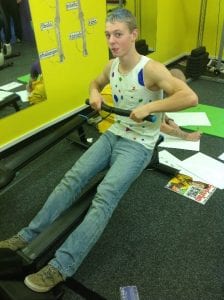 Christmas
Sevenhills Academy celebrated Christmas with a day of festivities when we held our annual Christmas Olympics. Activities included Welly throwing, Spout bashing, Face Painting, a Christmas Quiz and a festive feast. The elves took cakes and cards down to the residential home along Second Avenue to spread Christmas cheer to those in our community who are often forgotten.
Students collaborated together to fill 24 shoeboxes of essential an luxury items to send to those who are less fortunate in other countries. Boxes were filled with sweets, notebooks, colouring books, toiletries and small toys. The students presented the boxes in festive wrapping paper to spread the Christmas spirit.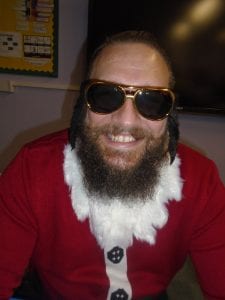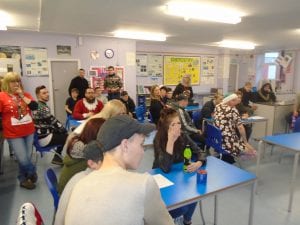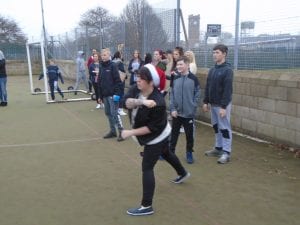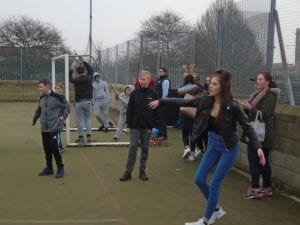 Fire Brigade
Students participated in a six week education package delivered by Humberside Fire & Rescue Service, looking at how to prevent the risk of fire at home and of what to do in the event of a fire. They also looked at the consequences of committing arson or making hoax calls, crime prevention, cyber safety and road safety. The skills and knowledge the students gained through participating in this Education program can be used by the students throughout their lives and into adulthood.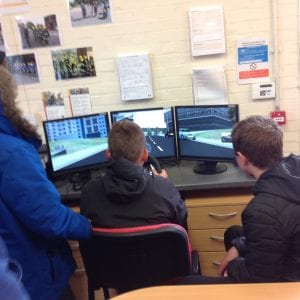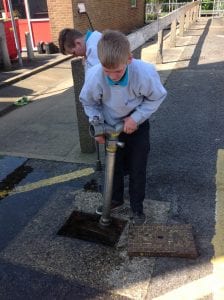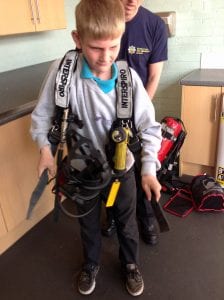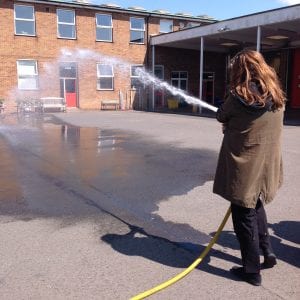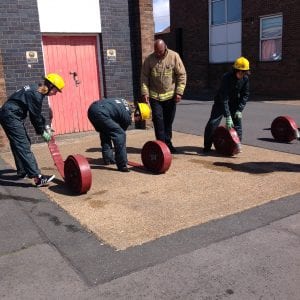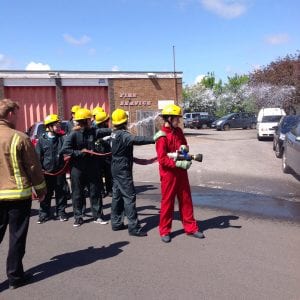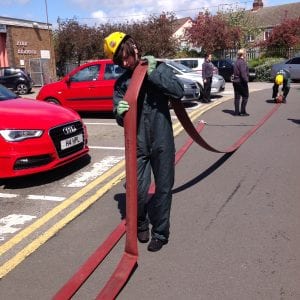 Football
Pupils from both Sevenhills Academy and Phoenix Park Academy got together for a much awaited 5-a-side football match at Clee Fields Sports Hall. Pupils demonstrated great character, enthusiasm and passion for the game with Sevenhills Academy running away 8 – 0 winners on the day. A big well done to both staff and students on such a positive event.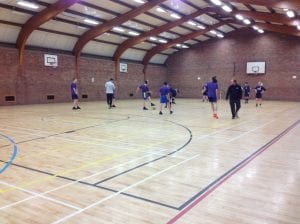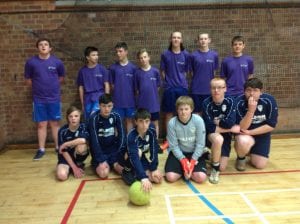 Forensic Science Day 14th July, 2016
You would never believe that just after a year after finding a dead body in the quiet room another (yes, another!) dead body was found on site. This time the body belonged to Mr. Brian Cell, Schools Advisor. Our teams of forensic scientists were incredibly thorough in investigating the Scene of Crime. Expertly equipped with magnifying glasses, brushes and evidence bags our students labelled and swept the area. Chromatography was carried out on the mystical ink. Flame tests helped identify the suspicious white powdered sprinkled near the bloody body. Blood group analysis provided sinister clues to the possible killer. Microscopic analysis of hair samples and finger prints helped reduce the field of suspects. 'Neighbourly' Neil emerged as a very dubious character. Much of the evidence indicated his rather dishonourable dealings. 'Sedentary' Sara proved her lifestyle to be far from sedate, but in the final resume the real villain was 'Glorious' Gayle. Gayle's sweet disposition couldn't provide enough of a distraction to our eager bloodhounds, who gathered all the evidence to prove her the perpetrator of the crime.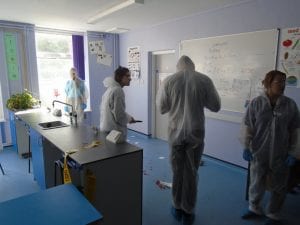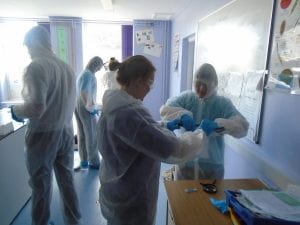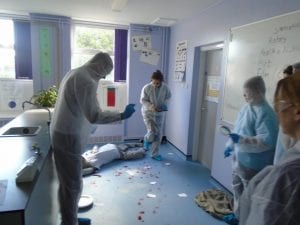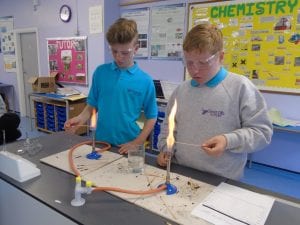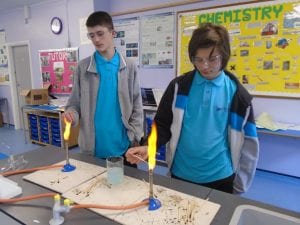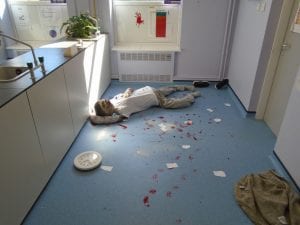 Lincolnshire Show – June 2016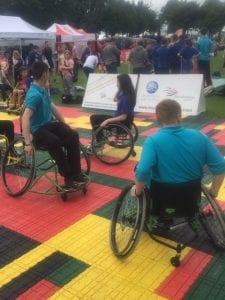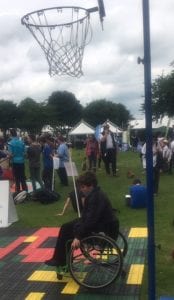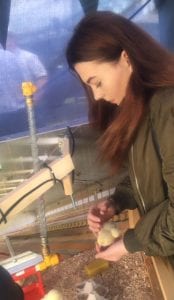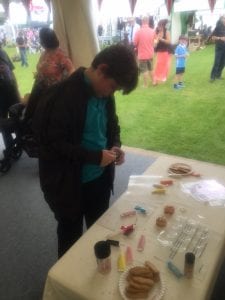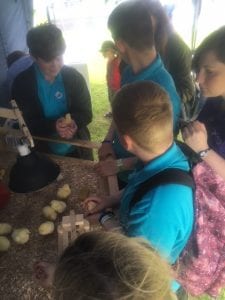 Rocket challenge July 2016
Sevenhills annual rocket challenge zoomed off as usual with some excellent artwork and designs. Unfortunately the artwork exceeded our aerodynamic acumen and some of the rockets 'plopped' rather than launching towards outer space. Pneumatics apart, all the hot air was pleasantly directed towards an enjoyable and educational event.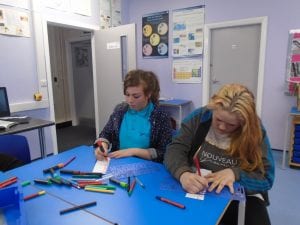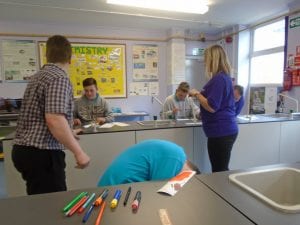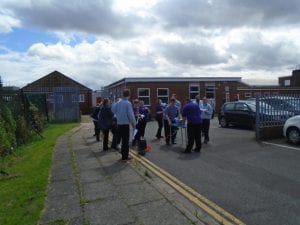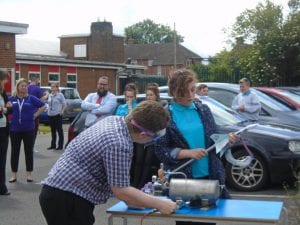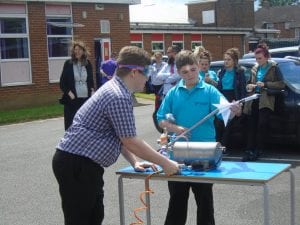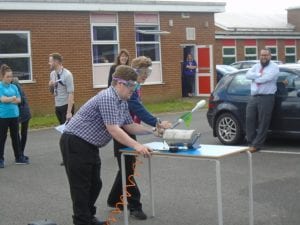 Sports Day, Summer 2016